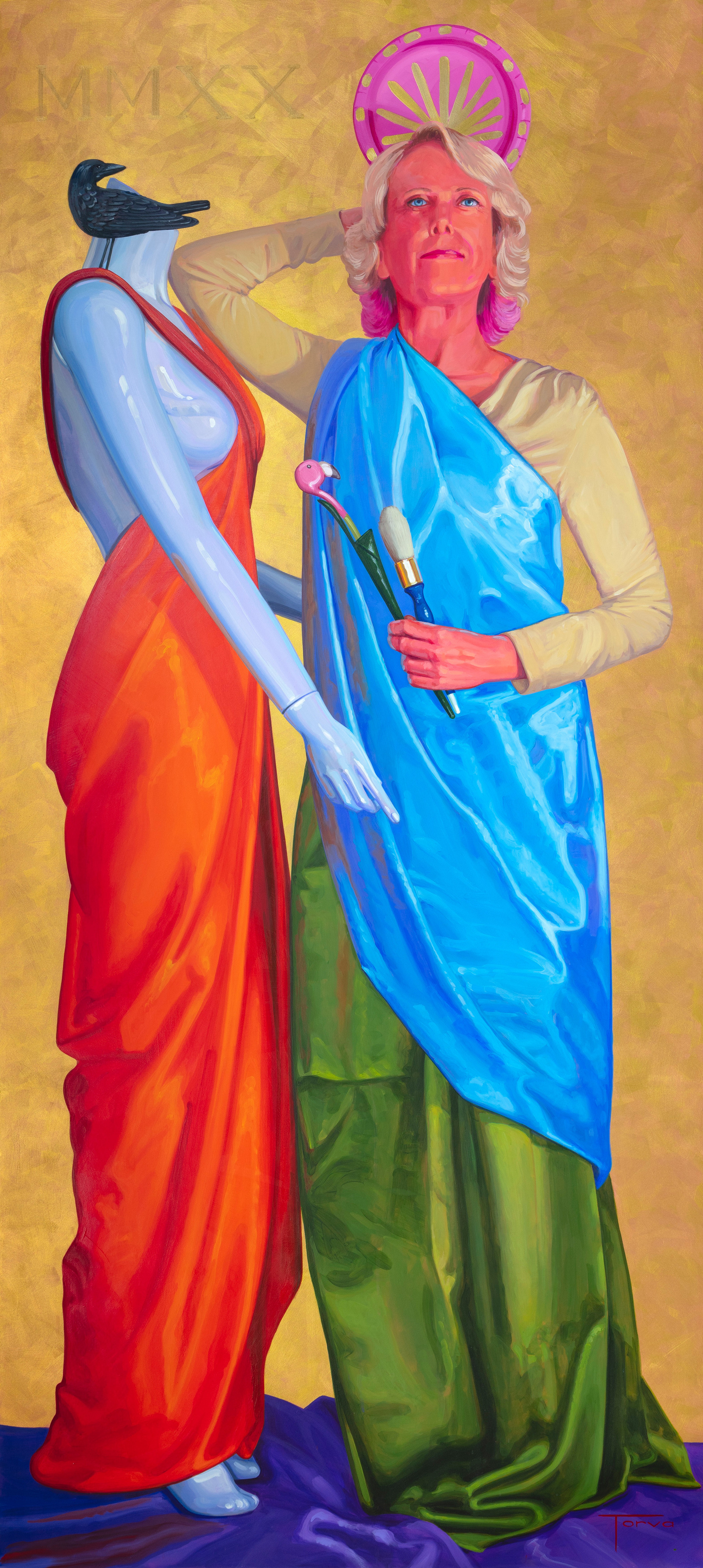 I have always wanted to convey a version of beauty: colors, textures, patterns, depth, contrast. I seek to be uplifting in what some consider superficial ways. Beyond the superficial is a viewpoint, perspective or juxtaposition of elements offered as food for thought."Artist as Saint" is tongue-in-cheek amusing with a deeper story for contemplation. The background is gold metallic specifically referencing Medieval religious art with no shadows because it is a "spiritual space". Also in gold are the Roman numerals for 2020, coming in and out of view based on the light.The amusing idea of this surreal religiosity is a phrase I "coined": self-haloing. The artist creates and holds their own halo, in this case, a pink paper plate painted with gold rays. We are all divine, yet, we have to come to that conclusion individually so as to embody it.The halo relates to specific issues artists face, uncomfortable contradictions in how artists are treated. The first is that artists are inherently sensitive, yet need to have a thick skin, taking whatever is dished out about their work by people with zero art experience, while persevering on their course. The second is that artists are alternately praised and then marginalized as if our experienced opinions are of no value.I endeavored to make this piece entertaining, including enough evocative elements for viewers to bring their own story.

With civil rights issues burning through our society, I have wanted to include these themes in my work and finally this series made it possible. The pseudo religious look of art that appears historical is perfect. My recent mannequin purchase proved a perfect pairing with a real person. In this case, the mannequin dispassionately symbolizes men so as to place the emphasis on the Black woman's experience. I asked around for a model and was referred to this woman, Walonda. She is a poet, a performer and an activist. She LOVED the concept of this work and was pleased to be the model. It is meaningful for me to engage with a woman who can embody these experiences and share her emotional power with me and with the completion of the idea. As a woman, I have had plenty of experience with marginalization and objectification. I can't imagine the extra weight of race added to that burden. The entire world is at the mercy or male "flexing". Yet, anyone who wields authority over others with no compassion is actually fearful and acting with their ego…therefore this piece. The male is severed in half and turned upside down with his most tender spot revealed. The strong woman places her hand with confidence a power over that spot. I asked her to have a "halo" made in whatever way she liked. I enjoy having some of the choices out of my hands, allowing me the opportunity to accept what happens. I also asked Walonda of her favorite colors: orange and copper. The tie on the male foot symbolizes the exclusive, white corporate culture, yet also symbolizes the lynching noose. I am very pleased to be able to combine my desire to deal with social justice issues at the same time as creating a colorful, beautiful painting. A note about the substrate: I wanted the figures to be life sized, or close so the viewer sees them as part of the space , as almost real. The panels are perfect: a standard hollow core door I buy at the home improvement store. They stay square, do not warp, are easy to handle and not expensive!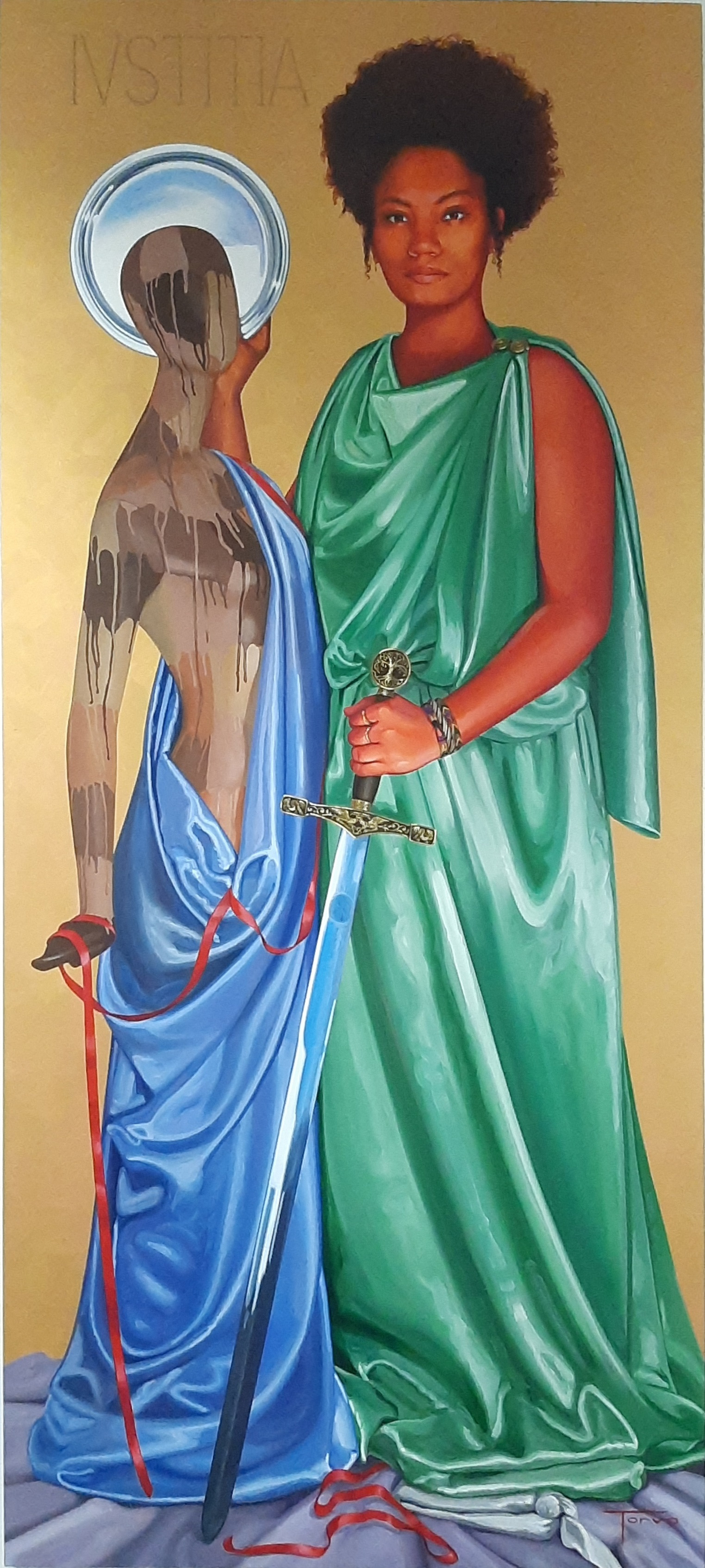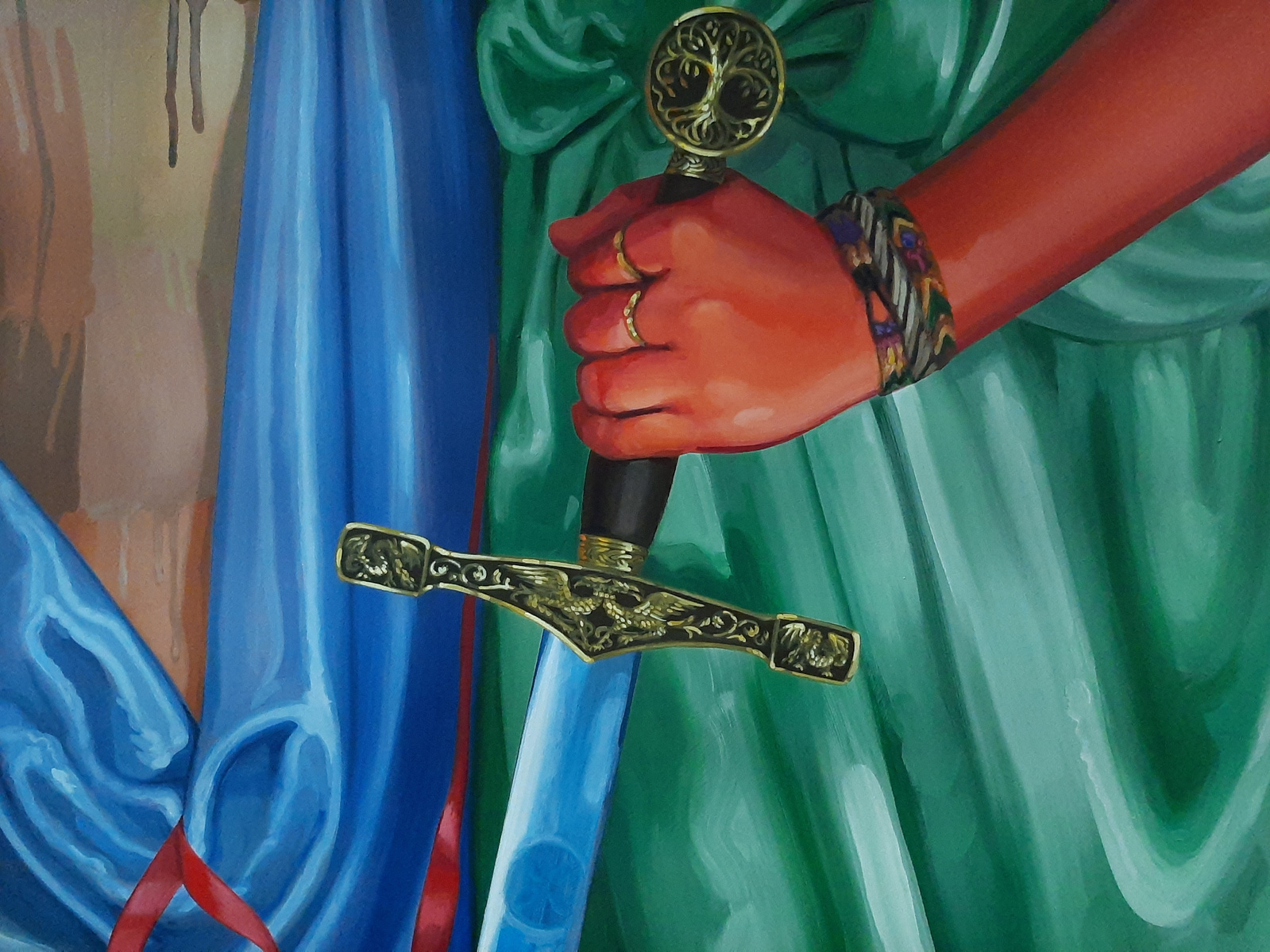 This is the third in the series beginning with "Artist as Saint". As with "Tender Spot", this idea formulated in my mind as I was going to sleep, with a vision of Justice caring for all marginalized people. In this case, the mannequin is perfect to be the symbolic "stand-in" for ALL people of color, ALL people that are marginalized and disenfranchised. I actually painted the mannequin the many colors of brown so that it would be a convincing model for the painting. My model, Kassie, was referred to me once I asked the right person. I wanted her to look possibly mixed race so as to represent everyone. Kassie does not have very dark skin and her eyes even have a little Asian look to them. I also wanted someone tall so as to fill the panel with her figure and Kassie is 5'10". She is an activist and marched in several local BLM protests. I spoke with her about a halo and we decided her hair is enough. For many Black women, their hair is their crown. She has taken off her blindfold which rests under her gown. Justice needs to see more than ever. She is holding a sword for which I made a call on Facebook and a friend had a collectible Excalibur, nice and large and just right for Justice. She is holding a halo for all the brown people to help make things right. Her sword may be for fighting enemies, yet more importantly, it is for cutting through all the red tape of the justice system, represented by the red ribbon. The red ribbon can certainly symbolize blood as well, but red tape is the primary symbol. I originally was going to have them both draped in creamy white, yet realized that was to virginal or angelic, yet I wanted more muted colors so the red ribbon would stand out. I chose colors based on the chakras. Justice is wearing green, the color of the heart chakra for compassion and all the heart energy needed to lift humanity up. The mannequin is wearing blue for the throat chakra, which represents our ability to be authentic and speak our truth. As a viewer said: "This is everything." I am proud and happy for this painting to receive this reaction.