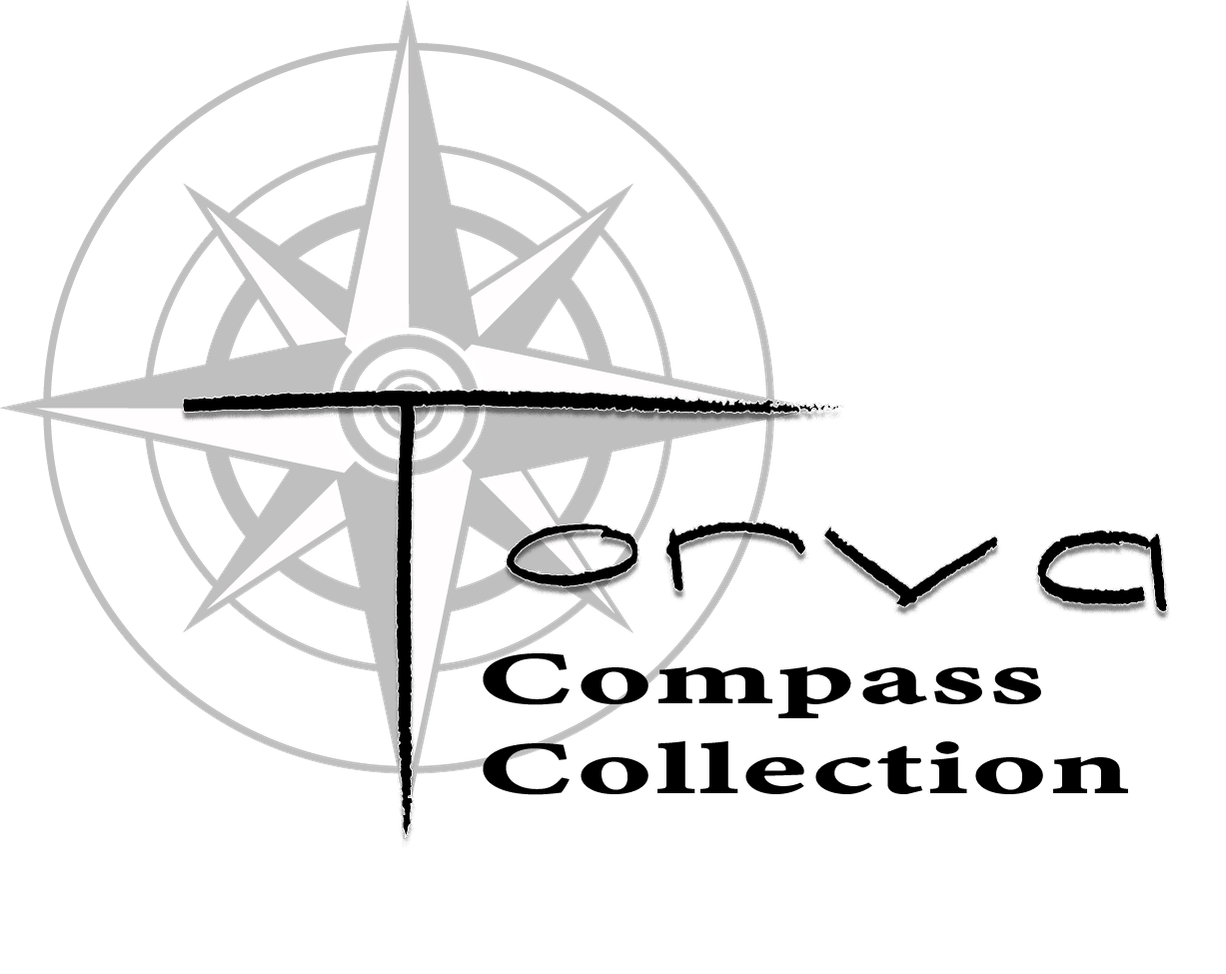 The collection is expressing and sharing my admiration for women who take action and use their skill set to change the world. I feel these women all act from a deep well of compassion, enabling their determination, drive and focus. Their compassion is for all living things, for children, for animals, for families, for the Earth, for all marginalized people.
Their Compass is rooted in compassion and empathy. Their Passion is fueled by strong emotion which prompts them to take action no matter the inconvenience or discomfort. Notice that both "Compass" and "Passion" create the word "Compassion." The portraits are purposely large and looking directly at the viewer so that we cannot avoid their presence. We are forced to engage with them. They are painted in a realistic manner so as to accurately represent the subjects, yet I heightened the color to add an expressionistic level of emotion. I kept the backgrounds simple and I feel the metallic adds an element of elegance or a feeling of elevated status as with a religious icon. The other quality of metallics is the shine which changes quickly as we move. This gives the paintings a dynamic feeling. I painted these portraits to be attractive and compelling, hoping that viewers would be interested in finding out more about the individual subjects, prompting some inspiration to action. We all have better versions of ourselves available. We can improved a little everyday.

The collection includes nine paintings for now. This is an ongoing project as there are many great subjects though out the world.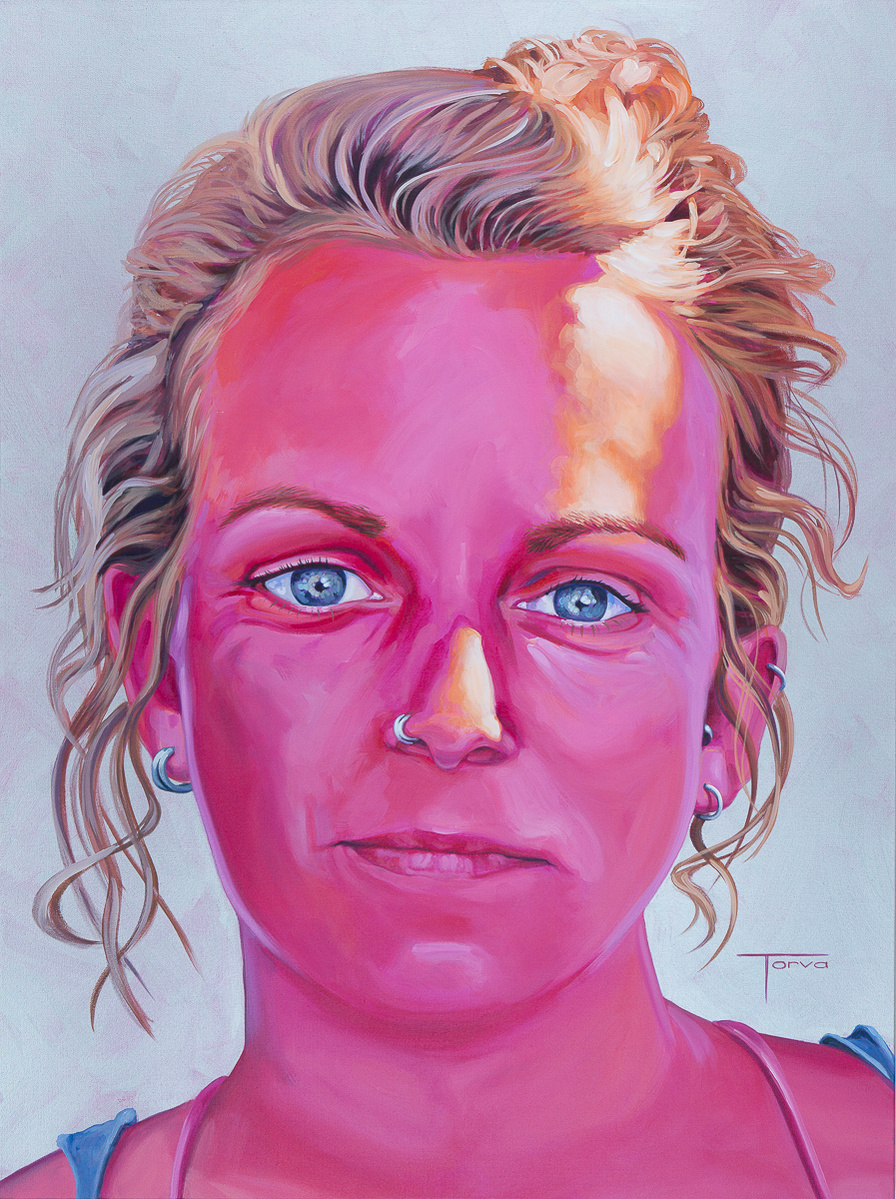 Pia Klemp, b. 1983
In the middle of 2019, in order to bolster my spirits and my faith in humanity, I was reading about effective, proactive women. I came across a quote by Pia Klemp that prompted this portrait series.
Pia Klemp rescued hundreds of stranded migrants in the Mediterranean with her ship the Iuventa, and was subsequently charged by Italian authorities with assisting illegal immigration. The mayor of Paris wanted to give her the highest award of the city for Ms Klemp's humanitarian work. She declined the medal and made a statement.
This is an excerpt from her statement: "…We do not need medals. We do not need who is a 'hero' and who is 'illegal'… What we need is freedom and rights. It is time we call hypocrite honoring and fill the void with social justice. It is time we cast all medals into spearheads of revolution!" That did it for me. I was compelled to start this series with Pia Klemp
She is a ship captain, animal and human rights activist and author from Germany. She was always interested in conservation of the ocean environment and wildlife. In 2011 she joined the marine conservation organization Sea Shepherd, working for six years in various positions such as cook, rescue diver, deckhand, shipmanager and second mate, while gaining her sea captain's patent.

Through 2017 Pia worked for the Sea Shepherd organization to participate in international operations to protect sea animals.With the emerging European migrant crisis since 2015, she switched in 2017 to rescue ship operations in the Mediterranean Sea. One of her ships, the Iuventa, was seized by Italian authorities in 2017, who accused her of cooperating with human traffickers. If convicted, she faces 20 years in prison.
Pia Klemp has stated that if she is convicted, she will fight the verdict all the way to the European Court of Human Rights. It is common knowledge that it is every captain's duty to rescue drowning people.
I pictured her outdoors, on the deck of her ship with her hair windblown and sun raking across her face. Her pupils are small because she is looking over the water into the sky. Her tight lipped expression shows her determination, as if she is telling us: "I didn't ask for this, but I am doing it anyway."
Jacinda Kate Laurell Ardern, b. 1980
She is the current Prime Minister of New Zealand. She has been called an "authentic" leader: open , honest and effective. She has recently received high praise for her handling of the COVID-19 crisis. "Her messages are clear, consistent, and somehow simultaneously sobering and soothing. And her approach isn't just resonating with her people on an emotional level. It is also working remarkably well."
Ms Ardern was on my shortlist as soon as I read about her handling of a mass shooting with assault rifles. It was at a mosque and 50 people were murdered. Within less than a week assault rifles were banned. To quote an article about her empathy balance with action: 'Yet in the aftermath of the Christchurch attack, Ardern has voiced her nation's grief with admirable compassion and resolve. Her caring and authentic response, firmly rejecting racism and erasing the attacker from the national debate, demonstrated a deep empathy when matched with her swift actions to enact comprehensive reform. It is this pairing of compassion with immediate action that has proven each to be genuine."
I have pictured her smiling. As someone who has chosen the role of public servant and politician, I imagine her genuinely caring about everyone and always being ready with a heartwarming smile.
Theresa Kachindamoto, b. ? (She is in her 60's)
Theresa Kachindamoto is known as the "terminator" of child marriages and is the Paramount Chief of the Dedza District of Malawi. In 16 years of her reign, she has rescued almost 3,500 child brides and helped them to restart their education. Her successful effort of making Malawi's parliament to pass a bill in 2015 setting the minimum age for both sexes at 18, gained her lots of international recognition.
Malawi is considered as one of the world's poorest places, ranking 160th out of 182 nations. Early marriage is more common in rural areas, where parents are eager to get girls out of the house to ease their financial burden. Theresa was not deterred in her mission to give back the lives of girls. My eyes watered reading about her. I remember being an adolescent and cannot imagine having to be married off.
She is described as a mild-mannered woman who zips around her farmhouse packed with knick-knacks and insists her guests eat a meal before any introductions,which presents a character at odds with her fearsome reputation of being Malawi's top marriage terminator.
She is full of love for all the people that live modest lives in her district. That is why I pictured her smiling. Her compassion is what makes her tough and able to stand up to centuries old traditions.
Hueiya Alicia Cahuiya Iteca (Mid-40's)
Alicia is not only an environmental activist, she is a women's rights activist. She lives in Ecuador, was born in the Ñoneno community in the Yasuní reserve, the granddaughter of a feared Huaorani warrior, called Iteca. At 18 she became a leader, following the footsteps of her grandmother in a traditionally male-dominated community.
On 3 October 2013, the Constituent Assembly in Quito gathered to discuss the Yasuní-ITT plan (for oil exploitation). Cahuiya was invited to participate as Vice-President of the Huaorani Nation of Ecuador, and she was expected to read the script given to her by her President, Chief Moi Enomenga. The speech acceded to oil drilling in her homeland in the headwaters of the Amazon River.
When Cahuiya stood up to talk, she defied her President and the government and made her own speech, first in her native Huaorani language, then in Spanish, denouncing the oil companies and speaking up in defence of her people.
The vote to save the Yasuní from oil drilling was lost that day, but Alicia had captured the hearts of Assembly members and the nation. Her message was front-page news; from that moment Alicia became an inspiration for indigenous women and a respected national political figure, tirelessly campaigning for the rights of her people, of the uncontacted groups of the Amazon and its environment.
I always feel for my portrait subjects, yet, when painting Alicia, I had numerous experiences of shivers and extreme emotion. There is no doubt that Alicia is a powerful force in this world.
There are not many photographs of her available, most are not smiling. I chose this one because of the extreme look of determination. Her expression reminds me of that of Pia: "I didn't ask for this, yet I am doing it."
Leymah Roberta Gbowee, b.1972
Liberian peace activist known for rallying women to pressure leaders into ending Liberia's civil war. She was one of three recipients, along with Ellen Johnson Sirleaf and Tawakkul Karmān, of the 2011 Nobel Peace Prize, for their nonviolent efforts to further the safety and rights of women and their participation in peace-building processes.
Moved to action by the pain and suffering that she witnessed, Gbowee mobilized women of various ethnic and religious backgrounds to protest against Liberia's ongoing conflict. The group became known as the Liberian Mass Action for Peace, and demonstrated against the war by fasting, praying, and picketing at markets and in front of government buildings. Dressed in white and present in great numbers, day after day, the women were difficult to ignore.
Gbowee was eventually granted a meeting with Liberia's president, Charles Taylor, and pressed for peace. In 2003 Taylor and Liberia's opposing factions attended peace talks in Ghana that were organized by international parties in an attempt to bring an end to the Liberian conflict. Gbowee followed the Liberian leaders to Ghana, where she led a group of hundreds of women in surrounding the meeting place. They refused to let Taylor and the other leaders leave until an agreement was reached.
Religion influenced Leymah's approach to peace building as a type of mothering. In fact, Gbowee engages the often marginalized voices of women and young men who bear the brunt of war. Gbowee has used religion to achieve many of her activist roles throughout her traveling career and teaching in healing spaces. An important role that she and other powerful women such as Ekiyor, used religion as a support tool to mother those who have been traumatized, searching for peace within their communities, their homes, and their country.
There are many photographs of Leymah available. She radiates a powerful energy as if she has the energy of several people within her. I am inspired every time I read about her determination based on her compassion. I will leave you with this quote:
"... we believe, as custodians of society, tomorrow our children will ask us, "Mama, what was your role during the crisis?"
Sonita Alizadeh (b. 1996)
Sonita Alizadeh grew up in Herat, Afghanistan, under the rule of the Taliban. Her family first considered selling her as a bride when she was 10. She said that at the time, she didn't fully understand what that meant.Instead, her family fled to Iran to escape the Taliban. She then discovered the music of Iranian rapper Yas and American rapper Eminem. Inspired by their music, she started writing her own rap influenced songs. In 2014, Alizadeh entered a U.S. competition to write a song to get Afghan people to vote in their elections. She won a $1,000 prize, which Alizadeh sent to her mother, who had moved back to Afghanistan.
Shortly after winning the competition, Alizadeh's mother sent for her to return to Afghanistan, saying she had found a man to buy her. She was 16. Her mother was trying to earn a $9,000 dowry so that her elder brother could purchase a bride, and thought she could get at least $9,000 by selling her own daughter. (I can't even…)
A documentary filmmaker, Rokhsareh Ghaemmaghami, paid $2,000 to Sonita's mother and asked for six months of time for Sonita. She then wrote "Brides for Sale" and he filmed the music video, which gained a lot of international attention.The video was not only popular with women in Afghanistan, but also drew the attention of the nonprofit Strongheart Group, which reached out to Alizadeh to bring her to the U.S.
Alizadeh currently lives in New York and attends Bard College. In addition to attending classes, she continues to write songs. A documentary, called Sonita, premiered at the International Documentary Filmfestival Amsterdam in November 2015.
I find it interesting that she wears traditional clothing. My interpretation is that she is not trying to completely negate her culture, she hopes to change it for the better. I felt the addition of SAR's rebellious graffiti energy is a good backdrop for Sonita. SAR (Charlie Giglia) was born in Brooklyn, NY and raised in the neighborhoods of south Queens. He started writing in 1977 in true graffiti form, tagging the insides and painting the outsides on NYC transist to the end of the clean train movement in the 1990's.
Berta Isabel Caceres Flores 1971-2016
Berta was a Honduran environmental activist, indigenous leader (member of the Lenca) and co-founder and coordinator of the Council of Popular and Indigenous Organizations of Honduras (COPINH).She won the Goldman Environmental Prize in 2015, for "a grassroots campaign that successfully pressured the world's largest dam builder to pull out of the Agua Zarca Dam" at the Río Gualcarque.
In 2006 a joint venture project was begun between a Chinese company, the World Bank's International Finance Corporation, and Honduran company Desarrollos Energéticos, S.A.to construct a series of four hydroelectric dams on the Gualcarque River.
From 2013, Cáceres led COPINH and the local community in a year-long protest at the construction siteswhich had breached international law by failing to consult with the local people on the project. They wanted to prevent the companies from accessing the land. Security officers regularly removed protesters from the site.On 15 July 2013, the Honduran military opened fire on the protesters, killing one member of COPINH and injuring three others. The community reported regular threats and harassment from the company employees, security guards, and the military. In May 2014, members of COPINH were attacked in two separate incidents that resulted in two members dead and three seriously injured.
In late 2013, both Sinohydro and the International Finance Corporation withdrew from the project because of COPINH's protests.Desarrollos Energéticos continued, however, moving the construction site to another location to avoid the blockade.
Dozens of regional and international organizations called upon the Honduran government to stop criminalizing the defense of human rights and to investigate threats against human rights defenders. There is plenty to read about these incidents.
On the night of 2 March 2016, Cáceres was shot dead in her home by armed intruders. All over the world, indigenous people are at the forefront of environmental activism and being murdered. Berta is a compelling choice for this series because my sister married a Honduran and I am very familiar with the country and it's beautiful land. I also have several pieces of distinctive Lenca pottery. My daughter had the good fortune to see Berta speak and it was her suggestion do do a portrait of her. I chose an image of Berta that is very sweet because I wanted it to contrast with the knowledge that she was brutally murdered for her activism.
Patsy Matsu Takemoto Mink(1927-2002)
Patsy Mink was the first woman of color elected to the U.S. House of Representatives and the first Asian-American woman to serve in Congress. In addition to writing bills like Title IX, the Early Childhood Education Act, and the Women's Educational Equity Act, Mink was the first Asian-American to run for U.S. President. She has a place in the National Women's History Museum.
She was a third generation descendant of Japanese immigrants. When Hawaii became a state in 1959, Mink immediately began campaigning to be elected as a congresswoman, although her attempt was unsuccessful.
In 1964Mink won a seat in the U.S. House of Representatives, making her the first Asian-American woman to serve in Congress. As a congresswoman, Mink fought for gender and racial equality, affordable childcare, bilingual education, and became a supporter of Title IX. She was one of the authors and sponsors of the Title IX law that stated that "No person in the United States shall, on the basis of sex, be excluded from participation in, be denied the benefits of, or be subjected to discrimination under any education program or activity receiving Federal financial assistance."
Recognized for her work, Mink was asked by the Oregon Democrats to run for United States President with the support of their party. Unfortunately, she only received 2 percent of the vote. . In 1990, Mink was reelected to Congress and served six terms in the House of Representatives. After her death, the Title IX law was renamed the Patsy T. Mink Equal Opportunity in Education Act.
As with Jacinda, I chose a picture of Patsy smiling. She gladly chose the life of a public servant and left a lasting legacy of advancement for under-represented people. I love the very 60's look of her suit and bouffant hairdo. Her determination to create legislation serving ALL of her constituents speaks to her hing level of compassion.
Billie Holiday (Eleanora Fagan) 1915-1959
Billie Holiday was an American jazz and swing music singer with a career spanning 26 years. Nicknamed "Lady Day", Holiday had an innovative influence on jazz music and pop singing. Her vocal style, strongly inspired by jazz instrumentalists, pioneered a new way of manipulating phrasing and tempo. She was known for her vocal delivery and improvisational skills.
The painting is specifically about the famous song "Strange Fruit", named Song of the Century by Time in 1999. The song was written by American song-writer and poet Abel Meeropol (a.k.a. Lewis Allen) yet once Billie Holiday sang the three brief stanzas to music in 1937, the song was hers.
The song's lyrics were shocking to some members of Holiday's mostly white audiences:
Southern trees bear strange fruit
Blood on the leaves and blood at the root
Black bodies swinging in the southern breeze
Strange fruit hanging from the poplar trees
This is especially poignant at this time with global civil unrest which points to the fact that racism is still very present.
I chose this view of Billie because she is looking directly at us with an almost accusatory expression. She sang the song for almost 20 years and still things barely changed. In fact, it may be a combination of racism and this song that was her ultimate downfall because the commissioner for the Federal Bureau of Narcotics was an extreme racist, even for the 1930s. He made a point of coming after her. She had recurring bouts of alcohol and drug use, most likely to deal with her trauma form childhood and teenage years. He managed to frame her for drug possession and things went down hill for her. She ended up in a hospital in her early 40's where this officer placed her under arrest, handcuffed her to the bed and did not allow anyone to treat her. She passed away within a few days.
Billie Holiday stood her ground and was an activist with her art.